Abia PDP At War After Kalu's Visit To Commissioner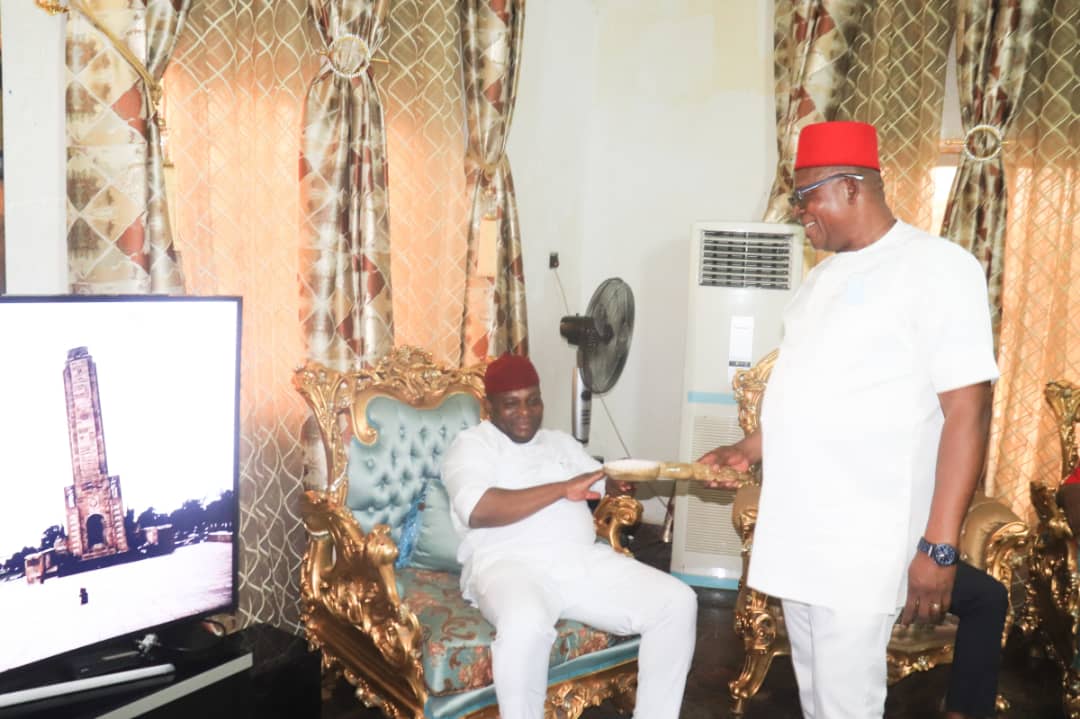 Senate Chief Whip, Senator Orji Uzor Kalu's visit to Abia Commissioner for Trade and Tourism, Hon Cosmos Ndukwe has set the state chapter of the party to war with accusations of defection brewing in the air.
Kalu is the leader of the All Progressives Congress, APC in Abia State.
The disharmony in the Abia State chapter of the PDP was triggered after Kalu's vist to Ndukwe in his Akanu Item country home.
The visit by Kalu was couched as a condolence visit.
GWG reports that the meeting between Ndukwe and Kalu immediately set tongues wagging as the commissioner had earlier criticsed and called out the Speaker of the State House of Assembly, Rt. Hon. Chinedum Orji after the Speaker visited Kalu in his Abuja residence last year.
The visit came after Kalu was released from custody following the technical victory he got in the N7 billion fraud case levelled against him by the Economic and Financial Crimes Commission, EFCC.
Kalu's visit to Ndukwe, GWG reports, is fueling angst among associates of Orji, who is also the son of the immediate past governor of the state, Senator Theodore Orji.
Among those who have called out Ndukwe are the Deputy Chairman of Bende Local Government Council, Hon. Promise Uzoma Okoro; Chief Ubani Dannie and some other PDP stakeholders who have called on Ndukwe to apologise to Orji for his criticism levelled after the Speaker visited Kalu last year.
In a piece entitled, 'Time to apologize to Ikuku (Speaker Chinedum Orji)', Okoro called out the commissioner for being hypocritical when it comes to issues concerning others.
He said:
He wrote; "Tentatively 7 months ago, some political jobbers went hellwire (sic), brandishing all manner of write ups against the Speaker of the Abia State House of Assembly Rt. Hon. Chinedum Enyinnaya Orji for visiting the Senator representing Abia North Senatorial District, Senator Orji Uzor Kalu in his Abuja home.
"Notable among them were the Deputy Chief of Staff in the Office of the Deputy Governor, Sir Don Ubani, immediate past Transition Committee Chairman for Umunneochi Local Government Area, Barr Eze Chikamnayo and the current Commissioner For Trade and Investment in Abia State, Hon. Cosmos Ndukwe, among others.
"They insulted the Speaker in their write ups to the extent of calling for his Impeachment.
Why Kalu's Visit Hurts
"The script writer in that failed attempt to incite our amiable Governor against his friend and Speaking Speaker, has been using all means humanly and spiritually possible to plead for pardon after abusing his Office.
"Today, the Commissioner for Trade and Investment Hon Cosmos Ndukwe can comfortably host Senator Orji Uzor Kalu in his Akanu Item country home and expect not to be lambasted."
Explaining his motif and his beef over Kalu's visit to Ndukwe, Okoro who was at one time a media aide to Orji said:
"I am an unapologetic loyalist of Rt. Hon. Chinedum Enyinnaya Orji, therefore, it is not out of place to ask all those concerned to render apology over their insult against him."
Send Us A Press Statement Advertise With Us Contact Us