FLASHBACK: The Moment Farouk Lawan Received Part Of $3m Bribe From Otedola (Video)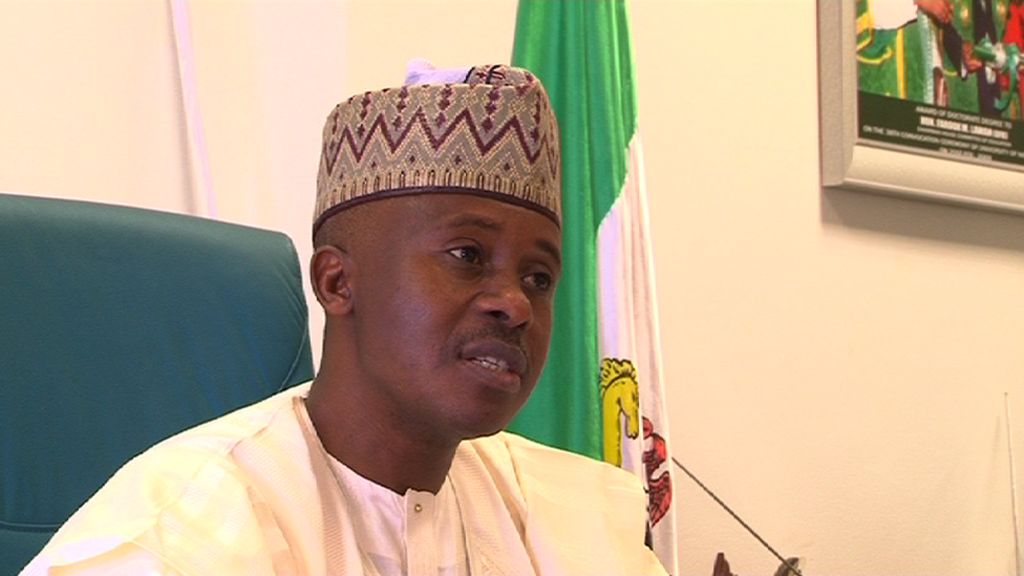 Former federal lawmaker, Farouk Lawan, was on Tuesday convicted by Federal Capital Territory (FCT) High Court in Apo, Abuja, for his role in the investigation of fuel subsidy fraud in 2012.
Lawan was the chairman of the defunct House of Representatives ad-hoc committee investigating the malfeasance and sleaze that the fuel subsidy regime was steeped in during the administration of former president, Goodluck Jonathan.
During hearing of the case on Tuesday, the trial Court in the country capital found Lawan guilty of of all the three counts of bribery.
Angela Otaluka, the trial judge, delivered the judgment in a hours-long verdict on Tuesday
Lawan, who was prosecuted by the Independent Corrupt Practices and other related offences Commission (ICPC).
READ ALSO: Farouk Lawan: The Rise And Fall Of Mr. Integrity
$3m Subsidy Probe Bribe: Farouk Lawan Gets 7 Years Jail
As the chairman of the house committee that investigated the fuel subsidy scam, Lawan had approached Femi Otedola, billionaire businessman, to demand the bribe.
He had promised to struck out Zenon Oil and Gas Ltd, which was founded by Otedeola, from the list of companies indicted by lawmakers in the subsidy scam.
Although Otedola pleaded innocence, maintaining that his company was never part og oil subsidy scam, he agreed to grant Lawan's request — but only as part of a grand plan to indict him.
Unknown to the former lawmaker, Otedola had written the Department of State Services (DSS) intimating the secret police of Lawan's unscrupulous ways.
As a way to get evidence, the DSS gave Otedola marked wads of cash worth $500,000 in order to give to Lawan to set him up.
On April 23 and 24, Lawan visited Otedola at his residence to collect the said money in two tranches. Otedola also promised to send the balance of $2.5 million.
After collecting the money, Lawan moved a motion during the house of representatives plenary seeking to remove the name of Zenon Oil and Gas from the list.
Otedola would later testify in court that he gave Lawan $500,000 as instructed by the DSS.
Below is a video of Otedola's meeting with Lawan, during which the former lawmaker received part of the money: