Abaribe, An Ethnic Bigot, Deceiving Ndigbo – Igbokwe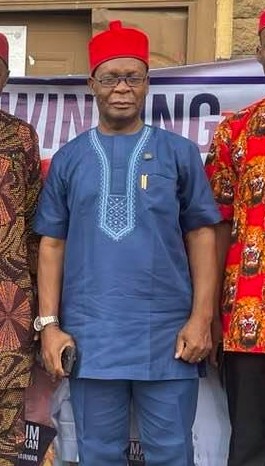 The Special Adviser to the Lagos State Governor, Babajide Sanwo-Olu on Drainage, Joe Igbokwe has lambasted the Senate Minority Leader, Enyinnaya Abaribe as an ethnic bigot promising to write an exposee on him over his lack of patriotism.
Igbokwe who has led the Igbo in the All Progressives Congress, APC in Lagos was especially furious over Abaribe's donning of a T-shirt reflecting the dot in a circle depiction of the Igbo by President Muhammadu Buhari in a television interview.
Affirming that the blood of security operatives killed in the Southeast would be on Abaribe for his alleged provocative acts, Igbokwe described the senate minority leader as "an elder for nothing and an ethnic bigot".
He said in a post on facebook on Tuesday that the blood of all those security men killed in the Southeast would be on Abaribe's head.
He said:
Igbokwe who subsequently followed up with another post on Thursday morning in which he denounced Abaribe for failing in keeping to his oath of office to secure and protect Nigeria.
He said in his post on Thursday morning.
Abaribe is in the Senate of the Federal Republic of Nigeria. He swore an oath to pay allegiance to the corporate existence of Nigeria as a political entity. Abaribe promised to be faithful , loyal and honest . To serve Nigeria with all his strength. To defend her unity and uphold her honour and glory. Look at this T-shirt very well . It bears Biafra flag and colour. This is deliberate attack on Nigeria. Abaribe as a Senator took Nnamdi Kanu on bail and today he cannot produce him.
"Today I do not know how many young Igbo that died in confrontation with the Nigerian Armed Forces that went to South East to stop the killing of Police officers, destruction of police formations , public institutions, and breaking of prison gates. Abaribe cannot sit in the Senate and still continue to fan the embers of disunity and war.
"Anytime he stands up to speak he does not speak  like a distinguished Senator. He speaks with venom and hate, totally unbecoming of anybody privileged to be a Senator of the federal republic of Nigeria. It is always counterproductive, totally unpatriotic and totally reprehensible and unacceptable. Abaribe should just home and join Nnamdi Kanu.
Abaribe has despite a string of insults directed at him from the Igbo born Lagos APC chieftain ignored Igbokwe who serves as special adviser on drainage to the Lagos State governor.
Igbokwe has also on his facebook page repeatedly praised President Muhammadu Buhari as the best thing to have happened to Nigeria.